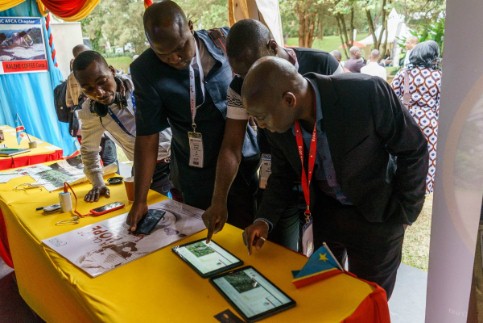 26 Mar 2018

GLTN work in the Democratic Republic of Congo gain momentum; STDM implementation in Beni

In February 2017, a partnership between the UN-Habitat/GLTN and l'Université Chrétienne Bilingue du Congo (UCBC) was formalized with the aim to support the North Kivu provincial government in formulating and implementing land reform programmes in Beni and the greater Eastern Congo at large, through the use and application of GLTN land tools and approaches. Under this arrangement, GLTN and UCBC have mobilized a multi-actor collaboration (state and non-state actors) in Beni, North Kivu, to develop and pilot a Land Information System (LIS) using a contextualized version of the STDM which serves as an archiving tool connecting archived documents (e.g., land titles, bill of sale, etc.) with digitalized geospatial data and land ownership and tenure information.

These activities are concentrated in Masiani, a peri-urban neighborhood located in north Beni, one of the thirty (30) neighborhoods in Beni and which is divided into 7 cells covering an area of 15 km2 with an estimated population of 16,264 and 2,711 households. Currently, the STDM has been piloted in three (3) of the seven (7) cells in Masiani neighborhood (Boikene Centre, Kitobi and Munyabelu). The three cells cover an estimated area of 395 hectares with 1485 households/beneficiaries. At present, the pilot project team has registered over 2368 plots of which 400 parcels have been enumerated and mapped using the STDM tool and process.

The project is working closely with various levels of DRC's government, including the Minister of Land Affairs for North Kivu, Secretary General for Land Affairs based in Kinshasa and the Coordinator for National Committee on Land Reform (CONAREF). For instance, the office of the Provincial Minister of Land Affairs is supporting the validation processes of collected data at the provincial parliament of North-Kivu. The Provincial Minister for Land Affairs is also advocating for the expansion of the project in other areas of the DRC as well as the capacity building of land officers on GLTN tools and approaches.

Pictures show ongoing project activities.